What's Happening In Wineries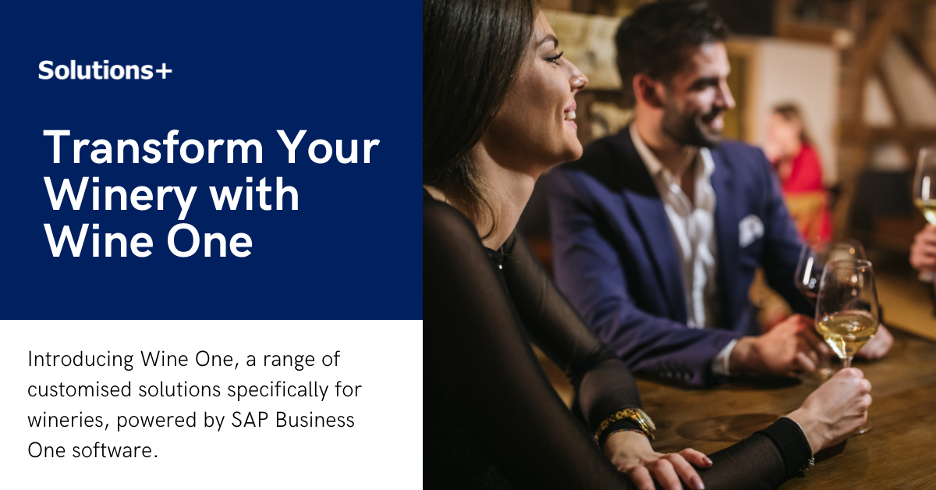 Since COVID-19 emerged in early 2020, businesses in various industries have undergone much disruption. Wineries from all corners of the world are no exception to the impacts caused by the situation and as a result, face new challenges.
In Australia alone, new Chinese tariffs are bringing a different set of hurdles to the industry. Additionally, the average price of Australian wine grapes is forecast to fall due to the loss of China as a significant export market.
Despite the obstacles, one thing is sure: Wine manufacturers need to adapt to these new challenges. One way to do this is by adopting technology to strengthen already existing business strategies.
Wineries share similarities with the manufacturing industry. As a business that consists of time-sensitive operations typically involved in the winemaking process – such as harvesting, fermenting, or bottling – efficient operation methods are crucial.
The wine industry can help to stay prepared and anticipate future challenges by implementing integrated systems and process automation. To achieve this, many wineries are investing in an ERP software solution tailored to the needs of a winery.
Related Article: Promotional ideas for wineries post-COVID.
Why Do Wineries Need an ERP Solution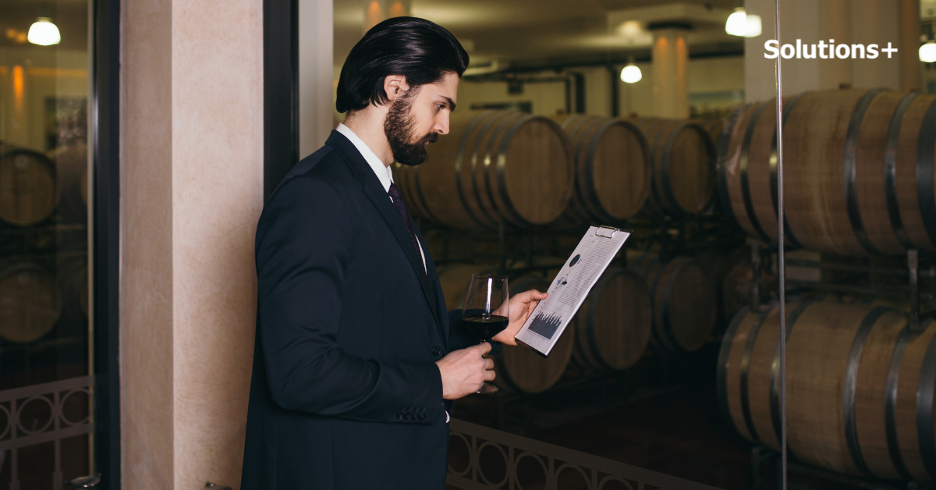 Deploying a software solution is nothing new in traditional manufacturing companies. However, using technology for end-to-end processes may be a more unusual solution for winemakers.
To overcome the challenges of integrating financial, operational and distribution processes on a day-to-day basis, manufacturing companies rely on an ERP software solution to streamline their operations and manage their day-to-day processes. A winery can do similar, to gain better visibility of their business.
Of course, wineries have their own set of unique pressures and challenges adding to their daily operations. But with a bespoke ERP software solution catered to wineries, you can reap the following benefits:
Receive automatic alerts when your cellar door is experiencing low stocks
Obtain complete visibility of your entire winery in one simple dashboard, covering sales, operations, customers, and finance
Automatic WET calculations
Real-time customer data to create segmented marketing campaigns
Easy integration between your website, accounting system, POS, CRM, and other relevant marketing platforms.
At the end of the day, every winery owner simply wants to make great wine. And to make great wine, owners must manage their critical processes and business functions in a way that supports their entire process: from growing the grapes to the sale of the finished product.
So, are you ready to get started with a bespoke winery ERP software solution?
Wine One: What's It All About
Wine One is an ERP software solution that combines the capabilities of SAP Business One and is tailored to meet the needs of wineries.
This digital solution package simplifies your entire business by bringing everything together into a single and accessible dashboard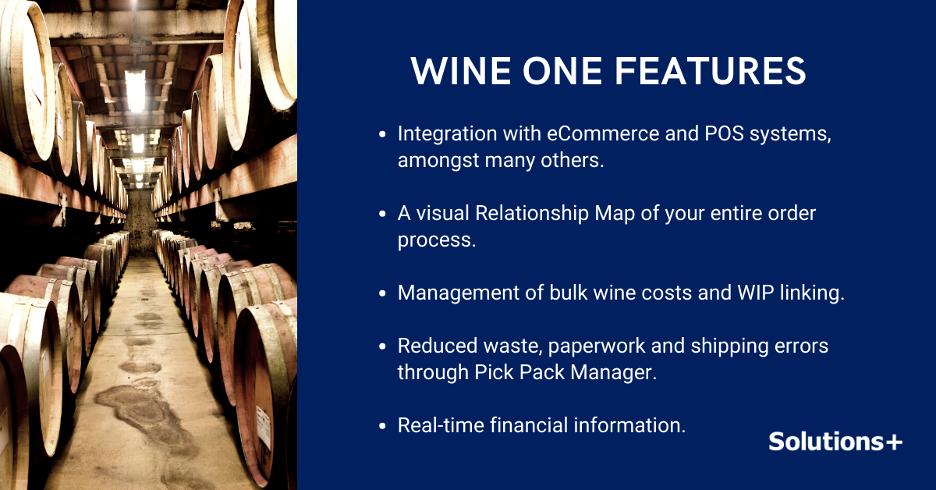 Using real-time data, Wine One tracks all of your business activities in one place – from grape levy, warehousing, inventory, WET, bottling, labelling, marketing, customer service, and beyond.
With Wine One, winery owners no longer need to worry about missing out on time-sensitive operations. Whether you're at the cellar door or at home, all the crucial information you need is readily available in one place.
Benefits of Wine One
With Wine One, you can achieve the following results:
Greater automation – Wine One helps you automate winery processes
Reduce costs – purchase raw materials more efficiently and achieve a better balance of stock based on your live inventory management
Work smarter – by simplifying your processes, you can identify more business opportunities, such as seeing which sales promotions work best, which export markets to focus on, and more
Work easier – thanks to automated workflow and communication, you can deal with wholesalers and exporters from Wine One's cloud-based app on your device
Save time – check out all of your business operations with just one login to one system from anywhere, anytime.
Related Article: Questions to ask when choosing software for your winery
Learn More About Our Wine One Service
With our Wine One service, Solutions+ can tailor software to your winery. Our team will create a configurable, adaptable and scalable solution that integrates seamlessly with your existing software programs
Combine that with our extensive business and winery experience, we deliver exactly what you need based on an agreed scope, fixed priced, and strict timeline. We're with you every step of the way to accelerate your winery's success.
Book a no-obligation demo today to see how our solutions can transform your winery.